It's Episode 2 of  Roll Play Grow, the podcast for tabletop entrepreneurs, creators, and fans. I am Courtney Stover of Lightheart Adventures, and in this podcast, we talk to the creators behind the brands in the tabletop role playing gaming space about who they are and how they are turning their passion for gaming into a career. 
In today's interview, I have the privilege of chatting with Nix of MC Etching. Nix creates gorgeous etchings on glass and many other materials that pay tribute to some of our favorite games. A personal favorite of mine are his class specific glasses, like Bard, Druid, and Paladin. But one of the things I really appreciate about Nix is his extremely positive attitude and his passion for the rpg community. If you follow him on Twitter, you'll know that he is your favorite Punkle, and always a shining beacon in your feed. Right off the bat in this episode, he offers some really wise words about how important it is to connect with the community you're trying to work in. 
Popular Platforms
More Options
00:00:00 Show Introduction
00:01:48 Nix Introduction
00:05:03 The start of his journey
00:07:50 The importance of reinventing yourself
00:11:52 Why Nix started a Twitch channel
00:14:57 How Nix got into glass etching
00:17:12 How he began to transition from hobby to business
00:19:35 Using Etsy as a storefront
00:21:38 A deeper look at his current products
00:24:22 The design process
00:29:25 That moment when you make NSFW products and don't know how to list them
00:32:31 All about the tokens
00:35:22 Most challenging part of running MC Etching
00:37:25 Time spent on each order
00:44:06 The most rewarding part of running MC Etching
00:51:34 Upcoming projects and goals
00:54:15 Where to find Nix & why his name is Punkle Nix
00:56:44 Wrap Up
Disclaimer: This post contains affiliate links. If you make a purchase, I may receive a commission at no extra cost to you.
Dice Envy
Dice Envy creates beautiful dice in a variety of materials. Use lightheartadv for 10% off your order
Found Familiar
Delicious coffee meets Dungeons & Dragons artwork. Use code lightheartadv for 10% off your order.
Thanks for dropping by! We would love to know who would like us to interview, so please drop a comment here on the blog, on Twitter, Facebook, Instagram, or Discord to let us know who your favorite creators are! If you'd like access to more maps and content, including downloadable PDFs of our adventures, check out our Patreon. We're able to do what we do because of all our amazing Patrons!
DM's Guild & DriveThruRpg
Matt Joro, also known as DungeonGlitch is one of those cool creators who does so many things. Matt is a DnD Influencer, Professional DM,
Read More »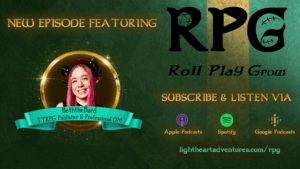 Indie Game Design
Beth the Bard is a writer, designer, streamer, and professional dungeon master. I first learned about Beth when she published She is the Ancient,
Read More »
Indie Game Design
Cassi Mothwin shot into the ttrpg scene a couple years ago when she created her first project, What Crooked Roots, a D&D 5e folk
Read More »