Welcome to Roll Play Grow
A podcast for tabletop
entrepreneurs
creators
artists
fans
Popular Platforms
More Options
Roll Play Grow is a podcast about the amazing people in the tabletop roleplay gaming community. Every episode, we meet the people behind the brands to explore their journeys, experiences, goals, and methods for running a business within this creative community.
Are you enjoying the show? I love introducing you to new creators every episode, but I need your support! I would love to invite you to visit our Patreon page, where you'll gain access to behind the scenes content, add your questions to upcoming interviews, receive a link to your website right here, and even gain a shout-out on an upcoming episode!
Patreon not your jam? Check out our Ko-fi to toss a (one-time) coin to your podcaster!
DM's Guild & DriveThruRpg
Matt Joro, also known as DungeonGlitch is one of those cool creators who does so many things. Matt is a DnD Influencer, Professional DM,
Read More »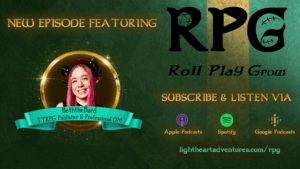 Indie Game Design
Beth the Bard is a writer, designer, streamer, and professional dungeon master. I first learned about Beth when she published She is the Ancient,
Read More »
Indie Game Design
Cassi Mothwin shot into the ttrpg scene a couple years ago when she created her first project, What Crooked Roots, a D&D 5e folk
Read More »
I'm Courtney, the voice behind every new episode. I'm obsessed with this tabletop community and the amazing creators within it making beautiful stories, products, and content. I am passionate about helping people follow their dreams and shaping their lives around their passions. My hope for this podcast is that it will give you inspiration to do the same!

Thoughts on the latest episode? Are you an entrepreneur & want to be featured?

Say hello.