Lightheart Adventures

Custom Battle Map Cartographer. Dungeon Designer. Tabletop RPG Blogger.
DM's Guild & DriveThruRpg
Matt Joro, also known as DungeonGlitch is one of those cool creators who does so many things. Matt is a DnD Influencer, Professional DM,
Read More »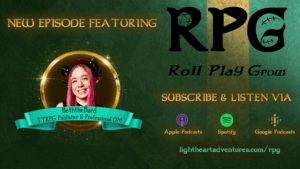 Indie Game Design
Beth the Bard is a writer, designer, streamer, and professional dungeon master. I first learned about Beth when she published She is the Ancient,
Read More »
Indie Game Design
Cassi Mothwin shot into the ttrpg scene a couple years ago when she created her first project, What Crooked Roots, a D&D 5e folk
Read More »
Battle map & story commissions
Whether you're introducing your players to an elaborate new landscape, hanging unique art on your wall, or gifting your favorite DM a customized map of their own, we are excited to craft the perfect piece with you. Let's create your very own tabletop map and adventure.
Free Table Top Adventures
Check out our collection of Side Quests: free one shot adventures designed with care for a variety of table top role playing games. They include maps, monsters, magic items, and a story sure to keep your group entertained.
In our blog you'll find tips and tricks for Game Masters and players, fantastical maps, thrilling adventures, and learn about some of our favorite creators.
We're Brenton & Courtney, and we are passionate about telling stories with our friends. Here at Lightheart, we enjoy creating new adventures, designing intricate battle maps, and playing as many tabletop role playing games as possible. We can't wait to work with you.